Southwest Grilled Turkey Breast
This Southwest Grilled Turkey Breast was one of the best turkeys we have ever had! If you know our household that's saying a lot as we love turkey!
We are always looking for new and exciting ways to serve up dinner or appetizers be it beef, pork, or poultry. We also have cooked turkey breast in many different ways. Sometimes a whole turkey is just too much for our family so we will do a breast roll or something like this recipe!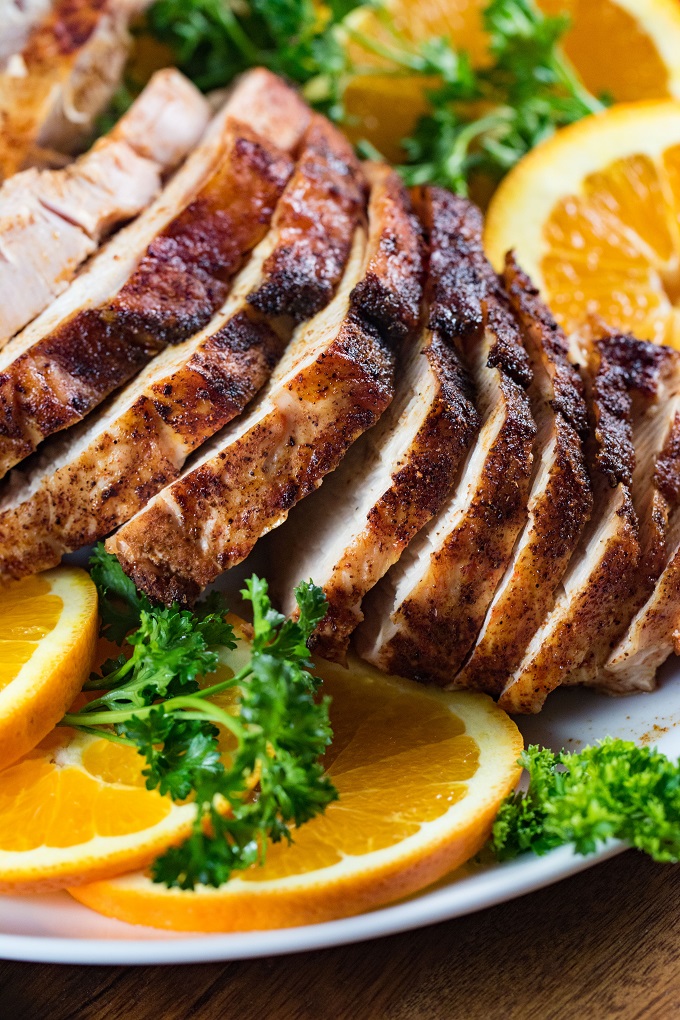 HELPFUL ITEMS FOR THIS RECIPE
This post contains affiliate links. As an Amazon Associate, I earn a small portion from qualifying purchases at no extra charge to you.
EXTRA LARGE Organic Bamboo Cutting Board with Juice Groove
8″ Carving Knife and 7″ Fork Set
how to grill a turkey breast on a gas grill
It's so easy to grill a turkey breast. Especially on a gas grill with this fantastic grilled turkey breast recipe! Because you have total control of which areas of the grill surface have direct heat and which do not have direct heat. To cook the breast using indirect heat is easy!
Ingredients For the Spice Rub
Smoked Paprika
Ancho Chile Powder
Celery Salt
Onion Powder (you can use Garlic Powder if you prefer)
Cumin
Kosher salt and pepper
This recipe is simple but it is packed with flavor! Even though you are cooking a whole boneless turkey breast it comes out so tender and juicy. You can play around with the spice mixture if you like. I find that this combination is a definite winner. I prefer the onion powder over the garlic powder but you can try it either way or be adventurous and use both!
The process is simple; take your breast out of the fridge about 30 minutes before. Mix your spices together and give it a good massage with the spice mixture. Make sure you get some under the skin of your turkey too!
Preheat the grill until the temperature reaches 350 degrees F. Prepare the grill for indirect cooking by turning off one of the burners. I usually turn off the one on the very right side. Place the breast skin side up on the side of the grill you have turned off.
how long to grill a turkey breast per pound?
The cook time of your turkey breast will vary based upon a number of factors.
Firstly, the size of your breast is a big contributing factor as to how long it will take to cook. Also the temperature and wind conditions.
It may not be true everywhere but up here in the great white north it can be cold and windy just about any time of the year! That can affect the temperature of your grill, so it's a good idea to keep an eye on it.
Our 6-pound breast took 2 1/4 hours to reach a safe internal temperature of 165 degrees F. I used a Thermoworks Thermapen meat thermometer. It totally takes the guesswork out of grilling your turkey breast, and everything else you are cooking! As a general rule of thumb and to give you some idea, your turkey breast will take between 18 and 23 minutes a pound.
Once your turkey is cooked remove it from the grill and allow it to rest for at least 15 minutes before slicing. Some people like to cover it with aluminum foil but you don't have to. The turkey skin was beautifully brown and crispy and the breast itself was tender and juicy!
To Brine or Not to Brine
This is the age-old question, and there are people that have really strong opinions on both sides of the debate. I'm on the brine side; I think that it adds flavor and moistness to your meats that you can't get otherwise.
Generally, I nearly always brine my whole turkeys, or chickens before I cook them on the grill. I even like to brine them before I put them in the smoker. You simply can not beat the moist juicy results that you get!
But in saying this, this Southwest Grilled Turkey Breast recipe is so packed with flavor that I found that I didn't need to brine it first before grilling.
The rub itself is full of wonderful tastes and because you are only cooking it for a couple of hours at most the breast will remain moist and juicy.
To grill the turkey on your BBQ over indirect medium heat is so easy, number one, close lid, number two, enjoy dinner! Plus, I like it because it seems to taste so much better than roasting it in the oven. The bonus also is that you don't heat your house up having the oven on in the summer.
I hope you enjoy this wonderful recipe as much as we did, it's a keeper for sure!
Yield: 8 Servings
Southwest Grilled Turkey Breast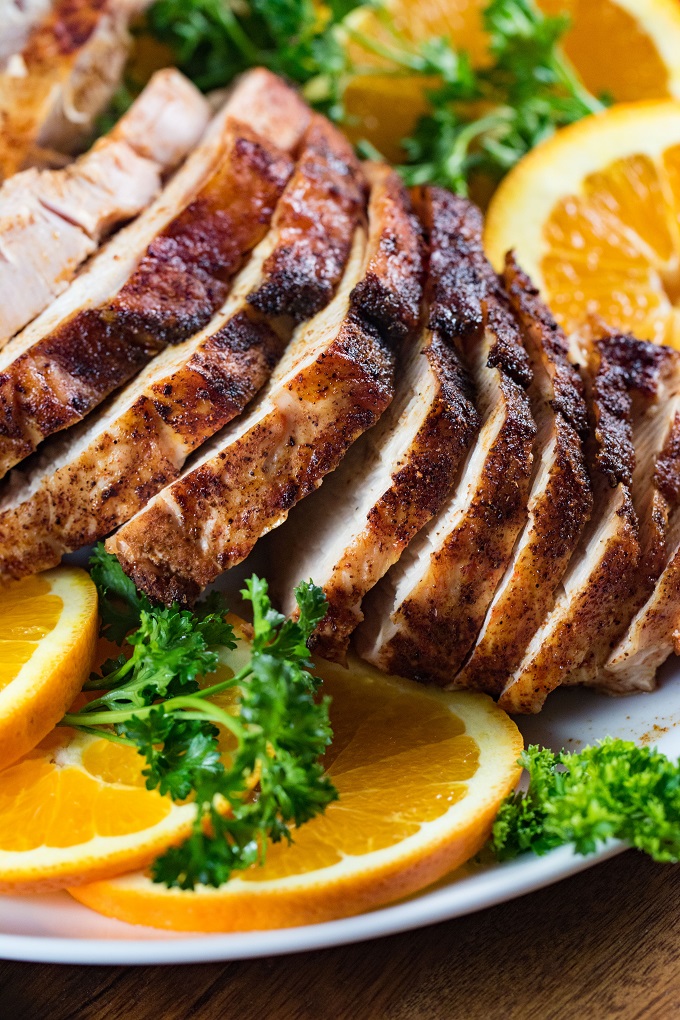 This Southwest Grilled Turkey Breast was one of the best turkeys we have ever had! If you know our household that's saying a lot!
Additional Time
15 minutes
Total Time
2 hours
35 minutes
Ingredients
6 lbs boneless turkey breast
3/4 - 1 tsp smoked paprika
1/2 tsp each: ancho chile powder, celery salt, onion powder, and cumin
1 tsp Kosher salt
Fresh ground pepper to taste
Instructions
Remove the turkey breast from the refrigerator 1/2 hour before grilling.
Preheat your grill to 350 degrees F for indirect cooking.
Mix the smoked paprika, ancho chile powder, celery salt, onion powder, cumin, Kosher salt, and pepper together in a small bowl.
Rub the mixture over the turkey breast covering it completely, rubbing some under the skin also.
Place the turkey breast on the grill over indirect heat.
Keep the lid closed during the cooking, the breast is done when an instant-read thermometer registers 165 degrees F. It will take between 1 1/2 and 2 1/4 hours.
Transfer the turkey to a cutting board and allow to rest for 15 minutes before carving.
Nutrition Information:
Yield:
8
Serving Size:
1
Amount Per Serving:
Calories:

502
Total Fat:

7g
Saturated Fat:

2g
Trans Fat:

0g
Unsaturated Fat:

4g
Cholesterol:

272mg
Sodium:

705mg
Carbohydrates:

0g
Fiber:

0g
Sugar:

0g
Protein:

103g
Recipe calculation was provided by Nutritionix and is estimation only. If you need nutritional calculations for medical reasons, please use a source that you trust.